The Gold Star Alliance Partnership (GSAP) and what it can mean to you!
Because of our continuing desire to improve our offering, we have developed the Gold Star Alliance Partnership (GSAP). The GSAP allows our customers to benefit from core competency models that are not available with existing turnkey models being presented today. Each of our GSAP members is an expert in their respective field. Board Fab., Board Assembly and Spectra Systems for sourcing. In this model each Partner is concerned with optimizing their contribution and not offsetting cost of inefficient operations in other steps of the process to deliver a functional board to you, the cost conscious customer. You may still have a single point of contact if so desired but the GSAP gives you flexibility, better total cost and still allows full turnkey outsourcing without any of the downside.
You can use any of us or all of us. With that kind of flexibility, we know you will be satisfied.
---
Your component sourcing experts...
Spectra Systems
Phone 408-452-1081
279 E. Brokaw Rd.
Fax 408-452-1085
San Jose, CA 95112
Nick Testa
Sales and Marketing Manager
nick@spectrasys.com
---
A technical team that is solutions oriented and where meeting your needs is paramount.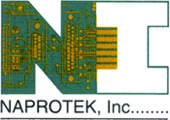 Naprotek, Inc.
Phone 408-830-5000
2945 San Ysidro Way
Fax 408-830-5050
Santa Clara, CA 95051
Liz Davidson
Director of Sales
liz@naprotek.com
---
One of the Valley's Leading PCB Manufacturer with finest customer service available anywhere!
Data Circuit Systems Inc.
Phone Tel# 800-800-3278 X 204
355 Turtle Court
Fax 408-494-0160
San Jose, CA 95125
Lisa Lloyd
Customer Service Manager
lisal@datacircuits.com